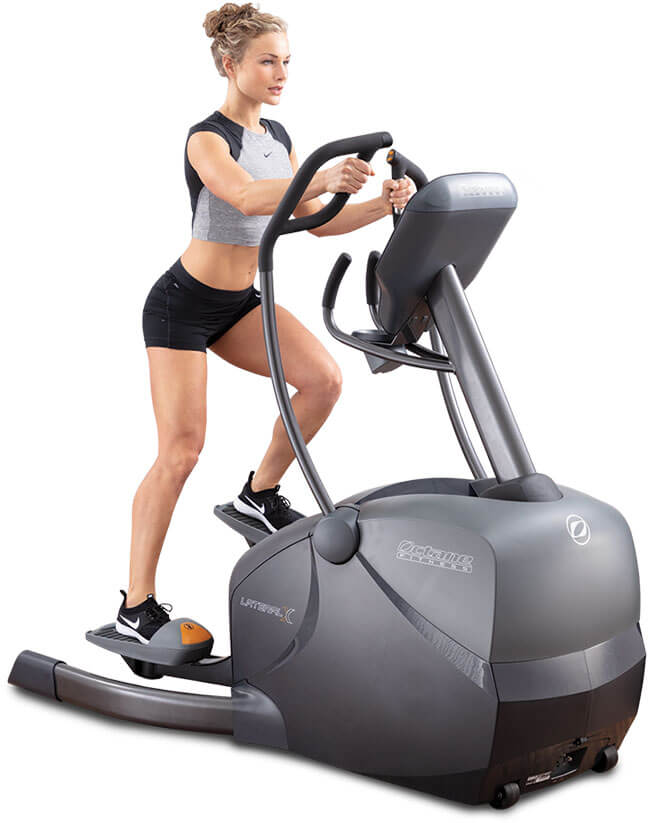 Octane Fitness Lateral X Elliptical
Add a new dimension and excitement to the cardio floor with the Octane Fitness Lateral X Elliptical that delivers functional challenges, more muscle demands and greater caloric burn.
 • Adjustable lateral 3D motion
• 27% increase in caloric expenditure*
• 30% increase in hip abductor/adductor activity*
• Adds muscle confusion with 10 varying planes of motion
• Great for sports, rehab and stability training, working the hips, thighs and glutes
• CROSS CIRCUITl® compatible
Brigadoon Fitness is now offering Wholesale Prices to the public. This includes our entire line of commercial fitness equipment and accessories.
Now you can afford to purchase a commercial grade Octane Fitness Lateral X elliptical for your residential personal home gym.
Smart console technology
Fuel your workouts with the best experience by upgrading to the smart console. Benefit from a great workout while staying up-to-date on all the latest information on the Internet.
Interactive Coaching
Easily add effective interval training to workouts with any Workout Booster, which are illustrated via video demos that keep you engaged and using correct form.
Entertainment
Stay entertained and motivated throughout workouts, and boost adherence and results, with a variety of integrated entertainment options. The smart console fully equips you to select from several popular options, including Internet surfing, web video streaming and web applications. With these interactive choices, you can banish boredom and stay fueled throughout your workout.