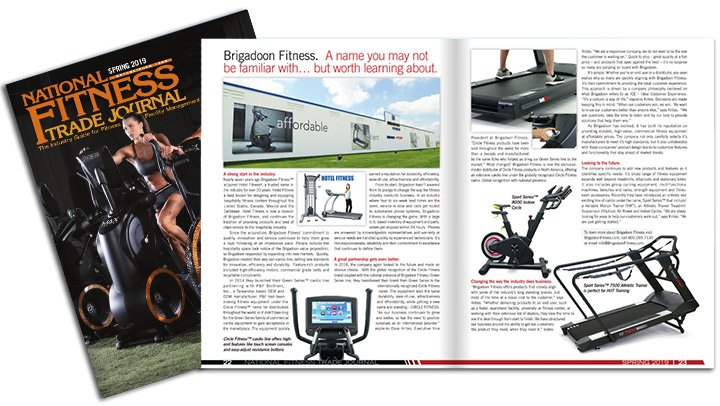 FORT WAYNE, IND. (March, 2019) — Brigadoon Fitness is featured in the Spring edition of  the National Fitness Trade Journal Magazine. Check it out here on page 22 of the online edition.
Brigadoon Fitness. A name you may not be familiar with…but worth learning about.
A strong start in the industry.
Nearly seven years ago Brigadoon Fitness™ acquired Hotel Fitness®, a trusted name in the industry for over 20 years.  Hotel Fitness is best known for designing and equipping hospitality fitness centers throughout the United States, Canada, Mexico and the Caribbean.  Hotel Fitness is now a division of Brigadoon Fitness, and continues the tradition of providing products and best of class service to the hospitality industry.
Since the acquisition, Brigadoon Fitness' commitment to quality, innovation and service continued to help them grow a loyal following at an impressive pace.  People outside the hospitality space took notice of the Brigadoon value proposition, so Brigadoon responded by expanding into new markets.  Quickly, Brigadoon created their very own cardio line, setting new standards for innovation, efficiency and durability.  Feature-rich products included high-efficiency motors, commercial grade belts and recyclable components.
In 2014 they launched their Green Series™ cardio line partnering with P&F Brothers, Inc., a Taiwanese based OEM and ODM manufacturer.  P&F had been making fitness equipment under the Circle Fitness™ name for distributors throughout the world, so it didn't take long for the Green Series family of commercial cardio equipment to gain acceptance in the marketplace.  The equipment quickly earned a reputation for durability, efficiency, ease-of-use, attractiveness and affordability.
From its start, Brigadoon hasn't wavered from its pledge to change the way the fitness industry conducts business.  In an industry where four to six week lead times are the norm, service is slow and calls get routed to automated phone systems, Brigadoon Fitness is changing the game.  With a large U.S. based inventory of equipment and parts, orders get shipped within 24 hours.  Phones are answered by knowledgeable representatives and warranty or service needs are handled quickly by experienced technicians.  It's this responsiveness, reliability and their commitment to excellence that continues to define them.
A great partnership gets even better.
In 2018, the company again looked to the future and made an obvious choice.  With the global recognition of the Circle Fitness brand coupled with the national presence of Brigadoon Fitness / Green Series line, they transitioned their brand from Green Series to the internationally recognized Circle Fitness name.  The equipment kept the same durability, ease-of-use, attractiveness and affordability, while getting a new name and branding – CIRCLE FITNESS.  "As our business continues to grow and evolve, so has the need to position ourselves as an international provider," explains Dave Krites, Executive Vice President at Brigadoon Fitness.  "Circle Fitness products have been sold throughout the world for more than a decade and manufactured by the same folks who helped us bring our Green Series line to the market."   What changed?  Brigadoon Fitness is now the exclusive, master distributor of Circle Fitness products in North America, offering an extensive cardio line under the globally recognized Circle Fitness name.  Global recognition with national presence.
Changing the way the industry does business.
"Brigadoon Fitness offers products that closely align with some of the industry's long standing brands, but most of the time at a lesser cost to the customer," says Krites. Whether delivering products to an end user, such as a hotel, apartment facility, university or fitness center, or working with their extensive list of dealers, they take the time to see the deal through from start to finish.  "We have structured our business around the ability to get our customers the product they need, when they need it," states Krites.  "We are a responsive company, we do not want to be the one the customer is waiting on."  Quick to ship – great quality at a fair price – and products that spec against the best – it's no surprise so many are jumping on board with Brigadoon.
It's simple.  Whether you're an end user or a distributor, you soon realize why so many are quickly aligning with Brigadoon Fitness.  It's their commitment to providing the ideal customer experience.  This approach is driven by a company philosophy centered on what Brigadoon refers to as ICE – Ideal Customer Experience.  "It's a culture; a way of life," explains Krites.  Decisions are made keeping this in mind.  "When our customers win, we win.  We want to know our customers better than anyone else," says Krites.  "We ask questions, take the time to listen and try our best to provide solutions that help them win."
As Brigadoon has evolved, it has built its reputation on providing durable, high-value, commercial fitness equipment at affordable prices.  The company not only carefully selects it's manufacturers to meet it's high standards, but it also collaborates with those companies' product design teams to customize features and functionality that stay ahead of market trends.
Looking to the future.
The company continues to add new products and features as it identifies specific needs.  It's broad range of fitness equipment expands well beyond treadmills, elliptical and stationary bikes.  It also includes group cycling equipment, multifunctional machines, single/dual weight stations, benches and racks, stretching apparatus and fitness room accessories.  Recently they have introduced an entirely new exciting line of cardio under the name, Sport Series™ that includes a Variable Motion Trainer (VMT), an Athletic Trainer Treadmill, Suspension Elliptical, Air Rower and a Front Drive Indoor Cycle.  "We are always looking for ways to help our customers work out," says Krites.  "We are just getting started."