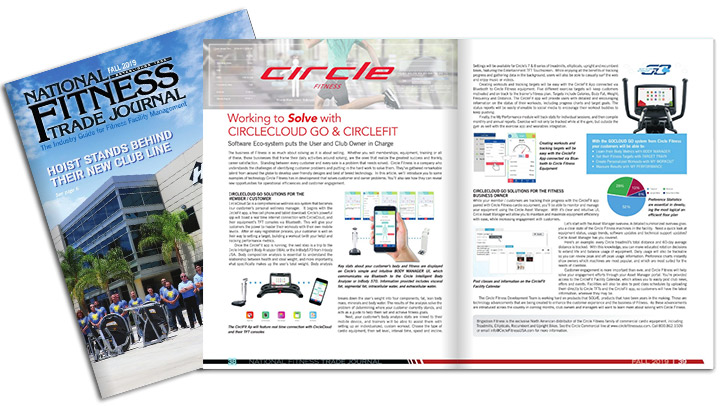 FORT WAYNE, IND. (October, 2019) — Brigadoon Fitness is proudly featured in the Fall edition of  the National Fitness Trade Journal Magazine. Check it out here on page 38 of the online edition.
Working to Solve with
CIRCLECLOUD GO & CIRCLEFIT
Software Eco-system puts the User and Club Owner in Charge
The business of Fitness is as much about solving as it is about selling.  Whether you sell memberships, equipment, training or all of these, those businesses that frame their daily activities around solving, are the ones that realize the greatest success and frankly, career satisfaction.  Standing between every customer and every sale is a problem that needs solved.  Circle Fitness is a company who understands the challenges of identifying customer problems and putting in the hard work to solve them.  They've gathered remarkable talent from around the globe to develop user-friendly designs and best of breed technology.  In this article, we'll introduce you to some examples of technology Circle Fitness has in development that solves customer and owner problems.   You'll also see how they can reveal new opportunities for operational efficiencies and customer engagement.
CIRCLECLOUD GO SOLUTIONS FOR THE MEMBER / CUSTOMER
CircleCloud Go is a comprehensive wellness eco-system that becomes your customer's personal wellness manager.  It begins with the CircleFit app, a free cell phone and tablet download. Circle's powerful app will boast a real time internet connection with CircleCloud, and their equipment's TFT consoles via Bluetooth.  This will give your customers the power to master their workouts with their own mobile device.  After an easy registration process, your customer is well on their way to setting a target, building a workout (with your help) and tracking performance metrics.
Once the CircleFit app is running, the next step is a trip to the Circle Intelligent Body Analyzer (IBA), or the InBody570 from Inbody USA.  Body composition analysis is essential to understand the relationship between health and ideal weight, and more importantly, what specifically makes up the user's total weight.  Body analysis breaks down the user's weight into four components, fat, lean body mass, minerals and body water.  The results of the analysis solve the problem of determining where your customer currently stands, and acts as a guide to help them set and achieve fitness goals.
Next, your customer's body analysis stats are linked to their mobile device, and trainers will be able to assist them with setting up an individualized, custom workout.  Choose the type of cardio equipment, then set level, interval time, speed and incline.  Settings will be available for Circle's 7 & 8 series of treadmills, ellipticals, upright and recumbent bikes, featuring the Entertainment Plus TFT Touchscreen.  While enjoying all the benefits of tracking progress and gathering data in the background, users will also be able to casually surf the web and enjoy music or videos.        
Creating workouts and tracking targets will be easy with the CircleFit App connected via
Bluetooth to Circle Fitness equipment.  Five different exercise targets will keep customers
motivated and on track to the trainer's fitness plan.  Targets include Calories, Body Fat, Weight, Frequency and Distance.  The CircleFit app will provide users with detailed and encouraging information on the status of their workouts, including progress charts and target goals.  The status reports will be easily shareable to social media to encourage their workout buddies to keep pushing.  
Finally, the My Performance module will track stats for individual sessions, and then compile monthly and annual reports.  Exercise will not only be tracked while at the gym, but outside the gym as well with the exercise app and wearables integration.
CIRCLECLOUD GO SOLUTIONS FOR THE FITNESS BUSINESS OWNER
While your member / customers are tracking their progress with the CircleFit app paired with Circle Fitness cardio equipment, you'll be able to monitor and manage your equipment using the Circle Asset Manager.  With it's clear and intuitive UI, Circle Asset Manager will allow you to maintain and maximize equipment efficiency with ease, while increasing engagement with customers.
Let's start with the Asset Manager overview.  A detailed summarized overview gives you a clear state of the Circle Fitness machines in the facility.  Need a quick look at equipment status, usage trends, software updates and technical support updates?  Circle Asset Manager has you covered.
Here's an example:  every Circle treadmill's total distance and 60-day average distance is tracked.  With this knowledge, you can make educated rotation decisions to extend life and balance usage of equipment.  Daily usage will also be trackable so you can review peak and off-peak usage information.  Preference charts instantly show owners which machines are most popular, and which are most suited for the needs of clientele. 
Customer engagement is more important than ever, and Circle Fitness will help solve your engagement efforts through your Asset Manager portal.  You're provided access to the CircleFit Facility Calendar, which allows you to easily post club news, offers and events.  Facilities will also be able to post class schedules by uploading them directly to Circle TFTs and the CircleFit app, so customers will have the latest information, wherever they may be.   
The Circle Fitness Development Team is working hard on products that SOLVE, products that have been years in the making.  These are technology advancements that are being created to enhance the customer experience and the business of Fitness.  As these advancements are introduced across the country in coming months, club owners and managers will want to learn more about solving with Circle Fitness.