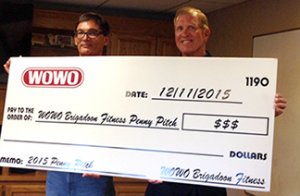 FORT WAYNE, IND. (August 17, 2015) ––Brigadoon Fitness announced its support of the 2015 WOWO Penny Pitch fundraising efforts by providing a dollar for dollar match of all proceeds raised. CEO, Bruce Dye, made the announcement this morning on air during the Fort Wayne Morning News with Charly Butcher. "There are tremendous needs in our community. Anything we can do to help generate more excitement, increase the amount raised and extend the reach to more charitable causes throughout the area, is something we're proud to support," said Dye.
"In the long history of Penny Pitch I'm pretty sure this has never been done," commented Charly Butcher. "What Bruce and Brigadoon are doing is a game changer and gives Penny Pitch the chance to help many more people in the Fort Wayne area. Thank you Bruce Dye."
Since 1948, WOWO's Penny Pitch has been providing grants to not-for-profit organizations serving disadvantaged or physically handicapped men, women and children throughout Northeast Indiana. Last year's fundraising efforts generated more than $130,000.
Applications for the WOWO Brigadoon Fitness Penny Pitch will be accepted until August 31st. Criteria for the application can be found at WOWO.com by clicking on the "Penny Pitch" tab. To be considered as a recipient of Penny Pitch, a charity must have an active 501c3 status and submit how the donated funds will be used.