An elliptical trainer or cross trainer is a relatively new entry into the fitness and gymnasium world and combines the motion of walking with that of stair climbing. Because of the arm levers, ellipticals give you a low impact full body workout whilst maintaining an upright position. What they also demonstrate, is how linear motion is used in gym equipment.
The process of the elliptical trainer is simple and wouldn't be possible without linear motion. The flat, large foot pedals are attached to a crank similar to the chain on a bicycle. Pressure on this crank rotates the front of the pedal in a circular direction and this combination of linear and circular motion results in the overall elliptical movement.
Elliptical Trainers are Popular
Elliptical trainers have become very popular over the past few years, mainly because it is a good way to work out the body whilst minimizing the stress on the user's knees, hips and backs. The risk of injury is also greatly reduced as the machine does not continue without you like a treadmill, nor are you likely to fall off it. The cross trainer also "works your arms and legs together, so your workout will be more intense in a shorter space of time." – source – http://www.ifafitness.com.
As well as the above, there are several other key benefits to using Elliptical trainers rather than fitness motion machines such as treadmills. It also provides a weight bearing exercise, which is good for the body's overall fitness and can help prevent osteoporosis. The main benefit however, is that the elliptical trainer is unique in giving both the upper and lower body a combined workout. Indeed, there is no other fitness equipment that works as many muscle groups.
Choosing the right Piece of Equipment
As with any piece of equipment, choosing the right one for you and maintaining it correctly is very important. Many trainers do come with some rail lubricant included, which will need to be applied yearly. Regular lubrication reduces friction between the rail and the wheel and will increase the lifespan of your trainer. It will also positively influence the service life of your equipment's bearings.
This is true of any piece of machinery that uses linear motion guides or rails. The smooth motion and accurate positioning, which can cope with high loads and speeds, offers the perfect solution to those seeking for a piece of gym equipment of this nature.
The advancements in linear motion technology, researched and produced by such companies as THK & SKF, means that these days Gym equipment runs better and longer than it ever has before. The success of the elliptical trainer is a direct example of these achievements.
Note From Brigadoon Fitness
Elliptical machines are great for low impact, high calorie burning exercise. They are easy on your joints as compared to a treadmill, but still offer a challenging workout.
There are many types of ellipticals as well as varying sizes. Here are our most popular.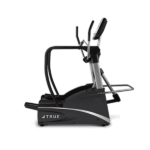 The True Fitness Elliptical – CS200. This machine has a compact design that takes less space. It is also self-generating, so no electricity needed.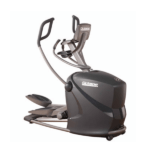 The Octane Fitness Elliptical – Q37. This compact elliptical fits anywhere because of it's smaller footprint and low step-up height. It does require electricity for it's console.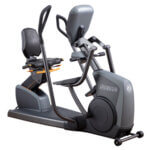 The Octane Fitness xRide Recumbent Elliptical – XR6000. With the xRide you can perform total body workouts all in a seated position.