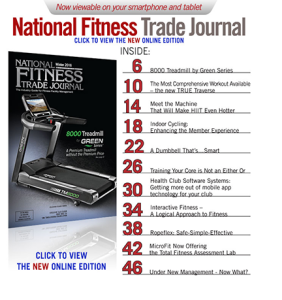 FORT WAYNE, IND. (January 4, 2016) — The new 8000 premium treadmill from Green Series Fitness, a Brigadoon Fitness company, is proudly featured in the Winter edition of the National Fitness Trade Journal. Distributed to fitness centers, athletic clubs, YMCA's, JCC's, military bases, rec centers and professional sports teams throughout the U.S., the National Fitness Trade Journal is the longest running publication in the fitness industry.
A Premium Treadmill without the Premium Price
The recently launched 8000 premium treadmill is a testament to everything Green Series Fitness exemplifies.  Stunningly modern, yet meticulously crafted, the new 8000 represents the next stage in Green Series Fitness' growing cardio equipment portfolio.  Designed for health clubs or any facility seeking a premium treadmill without the premium price, you're simply not going to find a better value.
Remaining true to its roots and the Green Series name, the 8000 is powered by a 6.0 HP, AC NextGEN III Eco-Drive System™, delivering an unsurpassed combination of energy-efficiency and power.   Working in concert with industry-leading drive motors and controllers, Habasit® premium running belts and SlikDek® reversible decks, the 8000 can reduce electricity costs by 30 percent.  Extensive field tests have also shown the NextGEN III Motor to run up to 20 percent cooler than comparable competitor's treadmill motors under the same load and conditions.
The 8000 treadmill offers two user-friendly console options proving that advanced technology does not have to be complicated.  The Entertainment Series console features a vibrant, high-definition, 19" touchscreen with HDTV, WiFi and Bluetooth® connectivity, integrated Apple® and Android® compatibility, USB and CSAFE charging ports.  Employing Virtual Connect™ technology, users can also enjoy their choice of 10 pre-loaded forward motion videos of beautiful sceneries from throughout the world, included at no additional cost.  A 19" LED is also available offering Bluetooth® connectivity, USB and CSAFE charging ports, toggle shifters for speed and elevation and a durable reading rack.
And if performance and comfort is what you desire, the 8000 delivers with its exclusive Smooth Deck Absorption System, biomechanically engineered to ensure a stable and flexible running surface for users of up to 500 lbs.  Further, with easily adjustable speeds of .2 to 17.2 MPH, elevations of up to 20 percent and over 20 exercise programs, the 8000 will appeal to users of all fitness levels.
What is Fueling the Growth of Green Series Fitness?
Three years ago, Brigadoon Financial, a private investment company, acquired Hotel Fitness, with a mission to grow the hospitality sector and expand into other markets.  Leveraging decades of experience in fitness, distribution, customer service and sales, the company has more than tripled revenues, engineered multiple lines of Green Series cardio equipment and developed a nationwide dealer network.
Operating under the Brigadoon Fitness umbrella, Green Series Fitness and its family of commercial cardio products are delivering some of the most energy-efficient, reliable and affordable equipment in the fitness industry.
So how does a relatively small and unknown company produce equipment that consistently outperforms many of the biggest names in the industry?  First, by partnering with the leading global manufacturers and challenging conventional thinking.  Second, by benchmarking the world's best fitness equipment and aiming even higher.  Third, by testing and assessing Green Series products in the most demanding proving grounds.  And finally, by providing unmatched customer service combined with the smartest warranty protection in the industry.
Focused Product Innovation
While other cardio equipment manufacturers may focus on integrating cutting-edge technology with their products, Green Series Fitness is taking a somewhat different path.   "Our goal is not to provide the most advanced or feature-rich cardio lines on the planet," says Dale Hansen, Director of Product Development at Green Series Fitness.  "Rather, we remain focused on delivering the best overall value and lowest total cost of ownership.  That means committing our resources to developing products that are incredibly durable, efficient, easy to use and affordable, while providing unparalleled customer service and support," states Hansen.  "At the same time, we recognize the importance of staying current with the latest technology and advancements—we just prefer to do so without overwhelming users with intimidating or cumbersome programming that adds significant costs to the products and frequently goes unused."
Smart Warranty Protection and Customer Support
It's one thing to say your products are reliable.  It's another to back it up. The Green Series warranty is yet another example of how Green Series Fitness continues to challenge conventional thinking.  Traditionally, manufacturers attach different warranties to different products, regardless of where and how the equipment is being used.  The Green Series warranty is based on the fitness application and amount of use.  Light commercial environments, defined as non-dues-paying facilities with up to six hours of daily use, deserve longer warranties, regardless of the products' commercial rating.
All Green Series cardio equipment, including the new 8000 Treadmill, when used in light commercial settings, include a 10 year frame, six year motor (upgraded to seven years on the NextGEN III Motor), six year parts, two year wearables and one year limited labor warranty.  Full commercial applications carry a 10 year frame, five year motor, three year parts, two year wearables and one year limited labor warranty.  Extended labor warranties are available as well.
Changing How the Industry Does Business
In an industry where four to six week lead times are the norm, service is slow and calls get routed to automated phone systems, Green Series Fitness is changing the game.
With a large U.S. based inventory of equipment and parts, orders get shipped within 24 hours or the same day if needed.  Phones are answered by knowledgeable representatives and warranty or service needs are handled quickly by experienced technicians.  It's this responsive reliability and commitment to excellence that has many industry insiders taking notice and driving Green Series Fitness to new heights.
Experience the most reliable and efficient products at these upcoming conferences:
– IHRSA, March 21 – 24, Orlando, Florida
– NIRSA, April 3 – 4, Orlando, Florida
– YMCA General Assembly, July 14-17, Kansas City, Missouri