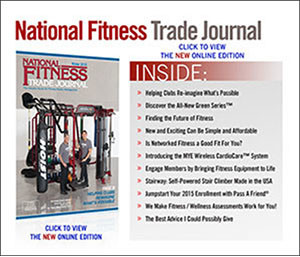 FORT WAYNE, IND. (January 5, 2015) — Green Series Fitness, a Brigadoon Fitness company, is proudly featured in the Winter edition of the National Fitness Trade Journal. Distributed to fitness centers, athletic clubs, YMCA's, JCC's, military bases, rec centers and professional sports teams throughout the U.S., the National Fitness Trade Journal is the longest running publication in the fitness industry.
An innovative combination of durability, energy efficiency and affordability that delivers the lowest cost of ownership
Green Series™ is a family of commercial cardio equipment designed for users who value dependable, efficient, attractive and affordable products. As the name implies, Green Series products are incredibly energy efficient, manufactured with recyclable components, and engineered with a commitment to significantly reduce the carbon footprint.
Although prior generations of Green Series products have been sold and used in the U.S. for nearly a decade, you may be asking: How does a relatively unknown company produce equipment that consistently outperforms many of the biggest names in the industry? First, by partnering with the leading global manufacturers and challenging conventional thinking. Second, by benchmarking the world's best fitness equipment and aiming even higher. And finally, by testing and assessing Green Series products in some of the most demanding proving grounds.
Green Series Family of Cardio Equipment
Green Series was born out of a need to develop highly reliable, energy-efficient, easy-to-operate and affordable commercial fitness equipment. These had to be cardio products that could stand up over time in a variety of commercial settings, save energy, and minimize total cost of ownership. The equipment also had to look great, perform impeccably, and be easily assembled and serviced.
Durable and stylish, Green Series includes the 6000 light commercial and 7000 full commercial cardio lines in contemporary matte black finishes. Each piece offers easy-to-use, one-touch controls; versatile speed and incline ranges; Smooth Motion Technology™; shock absorbing decks; and a variety of popular exercise programs. Additionally, the 7000 Series offers a choice of intuitive LED consoles or embedded touch screens with built-in digital televisions.
Powerful and Efficient
Operating at nearly 90 percent efficiency and using up to 50 percent less electricity, Green Series treadmills feature energy efficient motors. However, motor efficiency accounts for only 20 percent of the overall treadmill efficiency. The drive-motor controller, running-belt efficiency, belt lubricant efficiency and deck efficiency account for the remaining 80 percent.
After years of research and development, countless power-consumption tests, and partnering with the leading motor, motor-controller, deck and belt manufacturers in the world, we have developed the most durable and efficient treadmills in the industry. Green Series machines are efficient sure, but more than that, they are powerfully efficient with higher torque. And we don't stop with the motors. We've also designed our embedded touch screens with TVs to minimize the amount of electricity needed to power them, lowering the total power consumption across all products.
Tough Enough for Military Use
The most important feature of any piece of fitness equipment is its long-term reliability. Our innovative warranty protection is a testament to the durability of our products. But durability is about much more than providing an unsurpassed warranty. It's about performance under pressure. That's why we assemble and test every piece of Green Series equipment at the factory prior to delivery.
Built with less plastic and more metal, Green Series products are rock-solid, having undergone rigorous testing and evaluation in demanding environments for nearly a decade. Health clubs, corporate fitness centers, junior-senior high schools, hotels, and fitness facilities throughout the U.S. have been using our equipment alongside many of the most widely recognized brands in the world. During this time, Green Series products have experienced significantly fewer service-related issues.
Recently, the Green Series was put to the test at the U.S. Marine Corps training facility at Camp Lejeune in Jacksonville, North Carolina. After months of heavy use, often by military personnel running at high speeds with heavy backpacks, Green Series performed as well or better than the competitors' products, which cost upwards of 50 percent more.
Value of Partnership
Habasit maintenance-free, lubricant-infused running belts. Kuo Shuay high-efficiency treadmill motors. Rhymebus motor controllers and inverters. Hutchinson drive belts. Jendel pedal assemblies. These global leaders are recognized and trusted for manufacturing the highest-quality parts in the fitness industry. The same parts are found in Green Series equipment and worldwide in many other top cardio products costing much more. Why? Because smart companies understand the value of partnering with those that have mastered their core competencies. We take great pride in being able to work with these industry leaders.
The Smartest Warranty Protection
It's one thing to say your products are reliable. It's another to back it up. The Green Series warranty is yet another example of how we continue to challenge conventional thinking. Traditionally, manufacturers attach different warranties to different products, regardless of where and how the equipment is being used. The Green Series warranty is based on the fitness application and amount of use. Light commercial environments, defined as non-dues-paying facilities with up to six hours of daily use, deserve longer warranties, regardless of the products' commercial rating. All Green Series cardio equipment, including our 6000, 7000 and 7000E Series used in light commercial settings, have a 10-year-frame, six-year-motor, six-year-parts, two-year-wearables and one-year-limited-labor-warranty. Full commercial applications carry a 10-year-frame, five-year motor, three-year-parts, two-year-wearables and one-year-limited-labor warranty. Extended labor warranties are available as well.
Innovation Drives Everything We Do
We are innovators, committed to changing the way the industry does business. From groundbreaking products to smarter warranties to how we serve our customers, innovation is the catalyst for everything we do.
Over the past two years we've invested millions of dollars in state-of-the-art technology, experienced people, product research and design, and the largest U.S. based inventory of equipment and parts. Additionally, we recently moved into a new 70,000-square-foot global distribution center and corporate headquarters, allowing for greater efficiencies, communication and collaboration among our team members. You'll experience it the first time you call — customer service and inside sales representatives who answer the phones and respond quickly and knowledgeably. Equipment and parts are shipped out in hours rather than days or weeks. And, service and repair advice is provided by experienced technicians who won't leave you waiting for answers.
Who Is Green Series Fitness?
In August 2012, Brigadoon Financial, a private investment company, acquired Hotel Fitness, with a mission to grow the hospitality sector and expand into other industries. With expertise in logistics, distribution, fitness, customer service and sales, the company has more than doubled revenues, engineered multiple lines of Green Series cardio equipment, and developed a nationwide dealer network. Now operating under the Brigadoon Fitness umbrella, Green Series Fitness and its lines of commercial cardio products are delivering some of the most energy efficient, reliable and affordable equipment in the fitness industry.
See our products in action at www.GreenSeriesFitness.com/green-series-product-videos. Contact us at 800.862.1509, or Info@GreenSeriesFitness.com for more information.