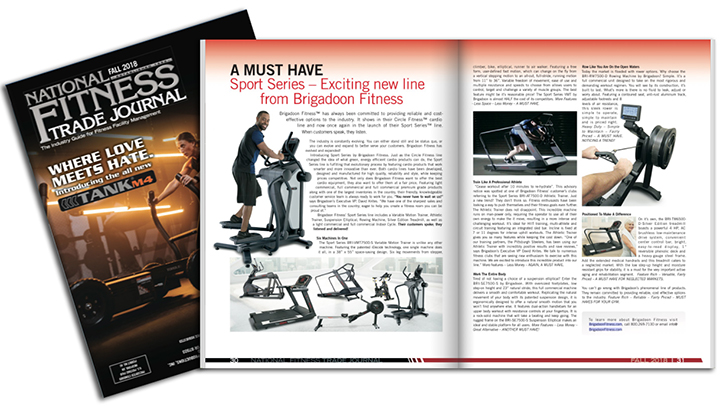 FORT WAYNE, IND. (October, 2018) — Brigadoon Fitness is proudly featured in the Fall edition of  the National Fitness Trade Journal Magazine. Check it out here on page 30 of the online edition.
Brigadoon Fitness builds its business around the ideal customer experience.
Brigadoon Fitness, a Fort Wayne-based supplier of commercial fitness equipment nationwide, takes a bold approach to selling its products. Rather than focusing primarily on product specifications, the company places its emphasis on making sure customers get what they need, when they need it. It seems like a subtle difference, but it not only ensures that Brigadoon provides quality products, but more importantly, it also delivers a service experience that is second to none.
Kevin Feldman, vice president of sales and marketing, explains, "We are a customer service focused organization selling fitness equipment, not a fitness equipment company with customer service."
That approach is driven by a company philosophy centered on what Brigadoon calls the Ideal Customer Experience (ICE). Its culture has been built around making decisions that always consider the impact to the customer, with the understanding that getting it right will ultimately drive sales.
David Krites, executive vice president at Brigadoon Fitness, explains it this way. "If we can't give the customer a better experience buying from us, they're going to have no motivation to do so," he says. "We don't make choices just to save money. We make choices to improve the customer experience. It's about having the right people and the right products in the right places at the right time."
Stocking levels, product features and even internal processes are all measured against a central question: How does this change/improvement/idea improve the Ideal Customer Experience? Understandably, Krites and his Brigadoon team have to know their customers very well to effectively answer that question.
"We want to know our customers better than anyone else," says Krites. "We ask questions, take the time to listen and are as transparent as we can be."
Those kinds of conversations have driven the trajectory of Brigadoon's business. The company started in 2012 selling fitness equipment in the hospitality industry as Hotel Fitness. As the company recognized a need in markets beyond the hotel and resort space, Hotel Fitness became a division within the expanded Brigadoon Fitness family.
As Brigadoon has evolved to meet customer needs, it has built its reputation on providing durable, high-value, commercial fitness equipment at reasonable prices. The company not only carefully selects its manufacturers to meet its high standards, it also collaborates with those companies' product design teams to customize features and functionality that stay ahead of market trends.
"We listen to the market, solicit feedback from our customers and present solutions they've requested," says Feldman.
For example, Brigadoon has long offered a family of commercial cardio equipment that is energy-efficient, manufactured with recyclable components and engineered to significantly reduce the carbon footprint. In order to reach a broader audience with these products, Brigadoon recently announced it will transition from its private-labeled Green Series brand to the more widely known Circle Fitness label of its manufacturer.
"Circle Fitness products have been sold throughout the world for more than a decade and manufactured at the same state-of-the art factory that makes Green Series equipment," says Feldman. "The ability to tap into Circle's global name recognition, resources, advanced technologies and worldwide service and distribution channel will be incredibly valuable to both our domestic and international customers."
Likewise, the company continues to add new products and features as it identifies specific needs. Its broad range of fitness equipment expands well beyond the treadmills, elliptical and stationary bicycles that are top-of-mind for most people. It also includes group cycling equipment, multi-functional machines, weight stations, benches and racks, steppers and a variety of fitness room accessories. Brigadoon also offers pool and patio furnishings under its Orange Italia brand.
"We want to offer the best products in our market segment," says Krites. "We offer great quality at reasonable prices, and that value proposition supports our success."
In fact, quality plays a significant role in Brigadoon's value proposition. Brigadoon understands that within each client's budget, he wants to receive the best equipment that will last the longest at the most reasonable price. Taking a cue from a Volkswagen tag line, Krites likes to describe Brigadoon products as "great for the price of good."
Availability impacts success as well, and Brigadoon has gone to great lengths to ensure it has a ready inventory. Orders are generally shipped from its Fort Wayne-based distribution center, where they are often fulfilled within a day of being placed. Many competitors do not carry stock and instead simply relay orders to the manufacturer, where lead times may be lengthy.
"We've won quite a few customers because we have the product in stock," says Krites.
Besides that, he continues, "We answer the phone. You are always going to talk to a real person here. Details like this make a big difference."
Krites and his team have made creating the Ideal Customer Experience part of everyday life at Brigadoon. They passionately believe that satisfied customers drive future sales, so they continue to invest in the details that affect them.
"The better the benefit we offer to the customer, the more people will be attracted to it," explains Krites. "People may buy fitness equipment on specs one time, but at the end of the day, it's the service that matters."
All customer interactions at Brigadoon – whether internal or external – are governed by five principles. It strives to show respect, be responsive, act reliably, build close relationships and maintain an excellent reputation. Above all, it wants to relentlessly push the bar higher in all areas.
"If we're going to invest time to talk about something," says Krites, "it had better improve the customer experience."
Ultimately, Brigadoon knows that when the customer wins, it wins, so delivering the Ideal Customer Experience provides the most effective path to success.