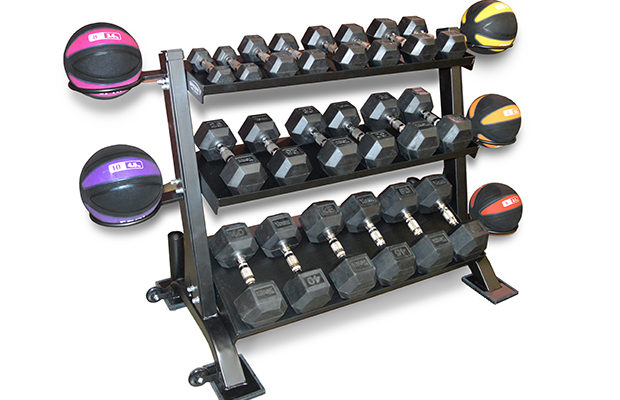 FORT WAYNE, IND. (May, 2017) — Brigadoon Fitness, recently launched a new adjustable utility bench and three-tier dumbbell rack. An innovative addition to the Circle Fitness family, the three-tier commercial dumbbell rack offers a unique combination of versatility and durability on a space-saving design.  Featuring dual-sided weight bar storage and optional medicine ball rings and/or Olympic plate holders, this rack is a great addition to any fitness center.  Angled flat racks provide ample space for up to 10 pairs of hex-style dumbbells and a wide clearance during removal or replacement of the weights. Large rubber feet and durable transport wheels round out this functional and safe unit.
The Brigadoon Fitness bench is built for comfort, durability and affordability in all commercial applications.  With 7 backrest adjustments and 3 seat-angle settings, the bench easily adjusts from -3 degrees to flat to a full 90 degrees, allowing the user to perform a variety of exercises.  Molded foam wrapped in highly durable upholstery provides superior comfort and large rubber feet provide a secure foundation and prevent the unit from slipping while exercising.  Grade 8 Zinc bolts and a solid steel handle with heavy duty wheels for easy transport ensure maximum durability and strength.
"We invested more than a year researching and developing innovative ways to improve our current benches and racks," states the director of Product Development at Brigadoon Fitness.  "Our focus was to make them stronger, versatile and affordable without compromising quality.  We're confident we have accomplished what we set out to do with these two new exciting offerings."
Both of these additions to the Brigadoon Fitness family are available for immediate delivery and include 10 year frame warranties.
About Brigadoon Fitness
Based in Fort Wayne, Indiana, Brigadoon Fitness is the exclusive distributor of  Circle Fitness™ fitness equipment in North America.  In addition, we've designed and equipped more than 20,000 hotel fitness facilities through our division, Hotel Fitness®.  We're innovators, changing the way the industry does business by investing millions of dollars in state-of-the-art technology, experienced people, product design and the largest inventory of fitness equipment and accessories in U.S.  This unique approach allows Brigadoon Fitness to provide the best products and solutions, more efficiently and for the best value.
For more information contact Don Osika, Vice President Sales & Marketing, by calling 260.434.2412 or email DonO@BrigadoonFinancial.com.