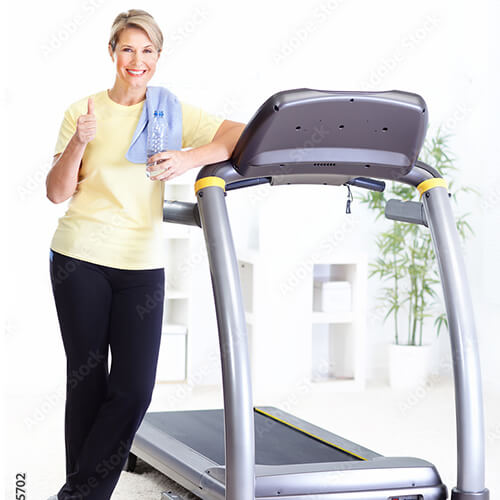 Don't get taken by commercials! We have all seen them, the handsome buff guy and the beautiful girl with a body to die for using exercise equipment that promises that just 15 minutes a day will give you a body like theirs. Of all the equipment we have seen advertised for getting in shape, only one remains day in and day out, THE TREADMILL. You might be wondering, why is this? Here are the reasons.
Residential Fitness
Can be used in your home when ever you want without waiting. In health clubs, people spend more time waiting to use treadmills then actually exercising on them.
Helps your joints. Running or walking on a treadmill has less impact on your joints then walking or running on concrete.
Burns more calories.
High end treadmills give you a variety of exercises that you can program.
Treadmills are increasing in sales as more people learn about their benefits. Treadmills can range from affordable manual treadmills, for people on a budget, to power treadmills that have programmable walking programs and other high tech features. Prices can run from $190.00 for a manual treadmill to as high as $2,000.00 dollars for a top of the line treadmill. I would suggest buying a less expensive model for a beginner. If you stick with it you can invest in a more expensive model later.
Note from Brigadoon Fitness
Treadmills are the best piece of exercise equipment for your home gym. You can use it while watching tv or your iPad, or even while listening to music. And while you can't necessarily disguise it as a piece of furniture you can move it to a corner of a room to use whenever you want.
Treadmills are also flexible in that you can walk, jog, run, and do HIIT moves on it. Since most of our treadmills offer inclines and programmable technology consoles you can be walking through the woods or up the side of a mountain.
If you don't use the side handles and swing your arms as you walk then you are getting a full body as well as a cardio workout. Try walking backwards on a treadmill it will help with your balance,  improve your heart and lung function because it is more challenging, and it burns more calories.
Try these treadmills for residential fitness and watch your health improve. True Fitness Performance CS200 Treadmill or the True Fitness Alpine Runner.