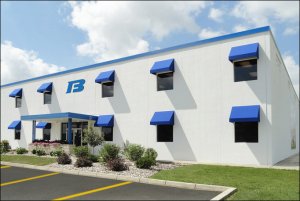 FORT WAYNE, IND. (September 16, 2014) — Brigadoon Fitness announced today the completion of its relocation and expansion.  After many months of interior and exterior renovations, the company has moved to 1818 Research Drive in Fort Wayne, Indiana, and includes Brigadoon's corporate headquarters, global distribution center and fitness equipment showroom.
The move stems from Brigadoon's need for additional space to accommodate growth in demand for the company's fitness equipment products and services.
"Our business has doubled over the last two years and we needed a space that could accommodate this growth," stated Kevin Feldman, Vice President of Sales & Marketing.  "Being under one roof also provides us with greater efficiencies, communication and collaboration between our sales, customer service, accounting and logistics teams.
The 70,000 sq. ft. building sits adjacent to Interstate 69, just south of Exit 311 on Fort Wayne's north side.  Images of fitness equipment and illuminated signs adorn the large exterior façade and making it highly visible to passing traffic.  The interior includes offices, conference rooms, warehouse space and a large fitness equipment showroom.
An open house is planned for the near future.