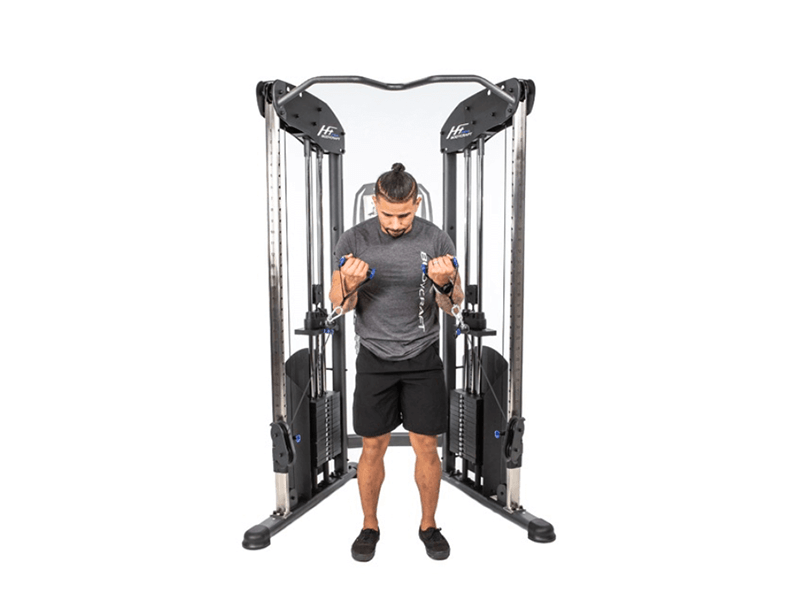 The type of home exercise equipment you choose will depend on the cost of the equipment, space requirements, and time frame for working out. A well thought out decision should be based off of these factors to choose the best piece of equipment.
Start off small and upgrade the exercise devices you need as you go. Working with a set budget means you will have to buy fitness equipment that is specific to your objectives.
If you're looking for improvement in cardiovascular conditioning, you might want to buy a jump rope instead of a top line cardio machine. If you have to, put on a pair of jogging sneakers and go for a run. Aim for practical fitness workouts and employ relevant workout machines to accomplish the desired outcome.
Strength training can be accomplished with adjustable dumbbells instead of buying a 300 lbs. weight set with a bench. Make sure to work all the major areas of the body to get the greatest results and prevent imbalance in strength.
Look for compact and lightweight exercise devices if space is an issue or you need equipment for traveling. Most of the major brand name fitness distributors have a separate line of equipment tailored for this exact purpose.
The time you choose to workout will depend on what fits best into life's schedule. Make sure to incorporate at least 30 minutes of exercise 3-5 times a week and try to be consistent. A great routine can be accomplished with a DVD and simple body weight movement.
Cardio Equipment
Treadmills are used indoors for walking and running and work with an electric motor. A good quality treadmill will provide a user with a movable platform that inclines and various speed adjustments for the belt. Most of these machines are equipped with a mini computers to monitor heart rate and calories burned.
Elliptical trainers are great for individuals with bad knees because of the low impact on the joints. Intensity of the workouts can be adjusted with speed and resistance settings. Elliptical machines are weight-bearing devices that work the body as a whole.
Rowing machines are a great way to burn a large amount of calories from full body movements. Most of the indoor rowing machines work with a flywheel with chain and handle. Machines like the Stamina rowing machine use a roller system and adjustable cylinder resistance arms that simulate real rowing motions.
Strength Training Equipment
A lifting program that uses barbells, weights and a bench allows the lifter to work all the muscle groups of the body. A bench focuses on pushing movements and the barbell and weights makes it possible to do all the standard Olympic lifts.
Adjustable dumbbells make the user work on balance as well as strength and will help build up the weak side of the body. Get a complete conditioning workout with a pair of dumbbells and plates.
All the essentials are offered with a home gym machine to put in place a solid workout routine. Most home gym devices will work with a fixed weight stack and have various attachments for specific body exercises. These types of machines will incorporate all the push and pull motions and usually have an abdomen workout station.
Choose the right type of home exercise equipment that will enable you to meet your fitness goals. Spending large sums of money to get a good workout is not the right approach. Build an exercise routine around fun ,exciting, and result oriented workouts.
Source by Karl Upton
Note From Brigadoon Fitness
Good health is essential for every body and getting fit should be your priority. While many people are able to stick to an exercise routine, many people have too many excuses to even start. So setting up a home gym could be the answer. It's convenient, it doesn't have to cost a lot, and you can do a little here and a little more there to start seeing and feeling results.
So What is the Best Home Exercise Equipment?
Treadmills offer a diverse way to get and stay in shape. Walking, jogging, and running gives a great cardio workout, walk backwards to tone and strengthen leg muscles, perform side shuffles to work inner and outer thighs. Here are some great treadmills that we offer: True Fitness CS200, True Fitness TC400, and the Circle Fitness M7e Treadmill.
Ellipticals may be the new kids on the block compared to treadmills or bikes, but they are worthy of being in the top 5 of exercise machines. Many cross trainers not only have the steps for walking but they also have handlebars for an upper body workout. You can also increase the resistance and incline for a more challenging workout. Here are some great ellipticals that we offer: True Fitness CS200, Octane Fitness LateralX,  and the Octane Fitness Elliptical – XT-ONE.
Home gym machines are an all-in-one gym for your space. The True Fitness SM-1050 is a perfect example that offers exercises for your legs, chest, back, shoulders, arms, as well as your core. We also offer the Bodycraft Pro Functional Trainer that uses stackable weights and cables to give you a thorough workout.
As stated above start with a walk around your neighborhood, then graduate to a treadmill and start jogging. Work exercise into a daily habit and you will start to feel and look good in a matter of weeks.